An Overview of the Current Situation of Salmonellosis in Pigeons, Household Chickens, and Commercial Broilers with a Special Reference to a Customized Vaccine Developing Trial
Abstract
Salmonellosis caused by virulent multidrug-resistant strains is a great concern of the poultry industry; thus, the prevalence, resistance genes profile, and development of customized vaccines were evaluated in poultry species. Thus, 100 cloacal swabs from pigeons, household chickens, and commercial broilers were collected from Sharkia governorate, Egypt; 31% were positive for Salmonella serovars confirmed by the invA gene. All isolates were examined for antimicrobial susceptibility for detecting antibiotic resistance genes on plasmid by PCR, which demonstrated qepA, mcr1, tetA(A), and floR genes (100%) for each, while sulI and aadA1 genes were 93.8% and 87.5%, respectively. A phylogenetic tree was constructed to illustrate the evolutionary relationships between different strains in Egypt. Additionally, a bivalent killed Salmonella vaccine comprising two isolated serovars of Salmonella enterica (S. typhimurium and S. enteritidis) was developed and evaluated for its efficacy in specific pathogen-free (SPF) chickens. Vaccinated chickens developed a high humeral response measured by ELISA. Moreover, the protection rate of the developed vaccine in the challenge test was 85%, with less fecal shedding. The findings suggest that customized vaccines prepared from local circulating strains can be used as an alternative effective control tool against salmonellosis.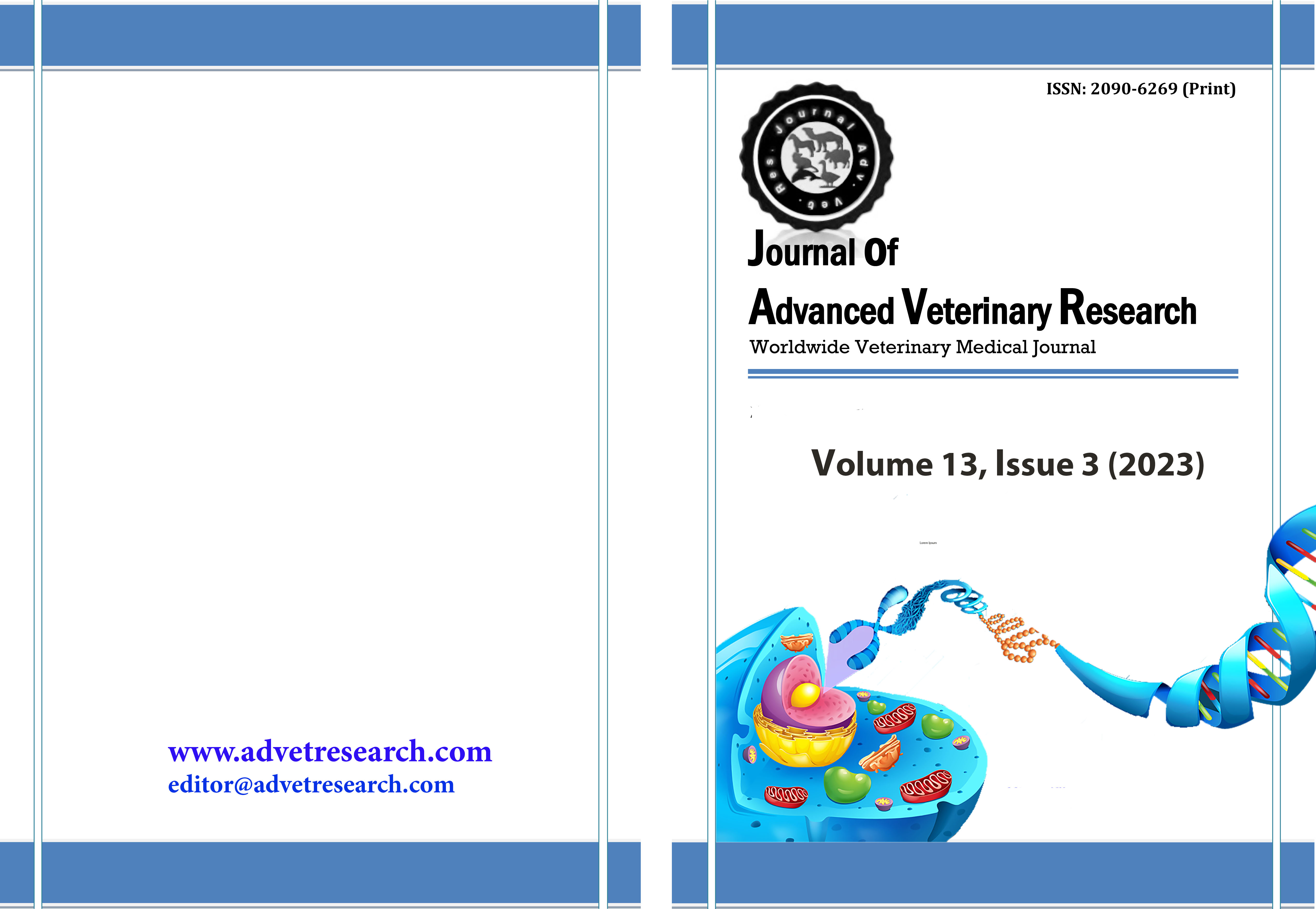 Downloads
How to Cite
Eid, S. ., Ibrahim, H. M., Shaltot, S. H., & El Oksh, A. S. (2023). An Overview of the Current Situation of Salmonellosis in Pigeons, Household Chickens, and Commercial Broilers with a Special Reference to a Customized Vaccine Developing Trial. Journal of Advanced Veterinary Research, 13(3), 322-332. Retrieved from https://www.advetresearch.com/index.php/AVR/article/view/1222
License
Copyright (c) 2023 Journal of Advanced Veterinary Research
This work is licensed under a Creative Commons Attribution-NonCommercial-NoDerivatives 4.0 International License.
Users have the right to read, download, copy, distribute, print, search, or link to the full texts of articles under the following conditions: Creative Commons Attribution-NonCommercial-NoDerivatives 4.0 International (CC BY-NC-ND 4.0).
For more information: