Evaluation of Subacute Toxicity Induced by Methoxychlor: The protective Effect of Ascorbic acid
Keywords:
Methoxychlor; ascorbic acid; hematological; thrombocytic; oxidative state
Abstract
The present study was designed to detect the effects of sublethal concentration of Methoxychlor (MXC) on hematological constituents, thrombocytic indices, liver and kidney damage biomarker and erythrocytic oxidative status. As well as the possible protective effect of ascorbic acid (vit-C) were tested in rats at subacute period under laboratory conditions. MXC was administered orally at a dose of 200mg/kg, twice weekly, to male rats, for one month. Co – administration of ascorbic acid at a dose of 1g\L drinking water was achieved. MXC caused a significant reduction in hematological constituents and thrombocytic indices. MXC induced a significant increase in the serum alkaline phosphatase (ALP), gamma glutamyle transferase (γ-GT), uric acid and creatinine, whereas decrease in total protein and albumin levels. With regards, to the results of oxidative status revealed that decrease in superoxide dismutase (SOD) and glutathione peroxidase (GSHPx) activities while increase in lipid peroxidation (LPO) components malondialdehyde (MDA). MXC plus vit-C treated group was significantly differed in most previous parameters than the MXC -treated group. These data, along with the determined changes suggest that MXC produce substantial systemic organ toxicity in rats during the period of a 30-days subacute exposure. The co- treatment with vit- C could ameliorate these toxic changes.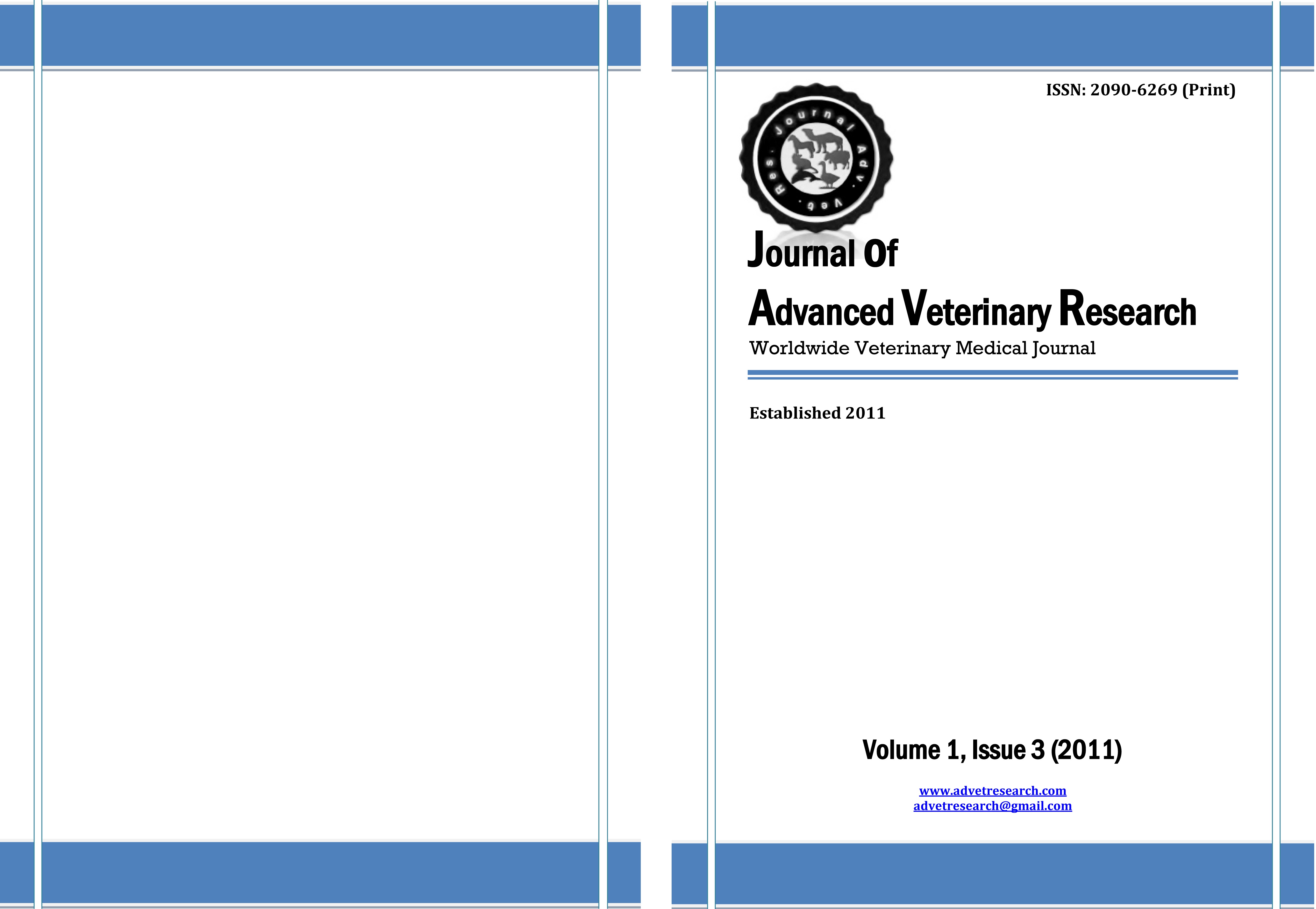 Downloads
How to Cite
Elsharkawy, E. E., & Sharkawy, A. A. (2011). Evaluation of Subacute Toxicity Induced by Methoxychlor: The protective Effect of Ascorbic acid. Journal of Advanced Veterinary Research, 1(3), 119-126. Retrieved from https://www.advetresearch.com/index.php/AVR/article/view/238
Section
Original Research
License
Users have the right to read, download, copy, distribute, print, search, or link to the full texts of articles under the following conditions: Creative Commons Attribution-NonCommercial-NoDerivatives 4.0 International (CC BY-NC-ND 4.0).
For more information: