A Ovsynch Produced Larger Follicles and Corpora Lutea of Lower Blood Flow associated Lower Ovarian and Uterine Blood Flows, Estradiol and Nitric Oxide in Cows
Ovsynch ovarian response and blood flow of cows
Abstract
The use of ovsynch and its modifications for synchronizing estrous cycle and ovulation in ruminants is widely used with lowered conceptions rates. This study aimed to investigate the follicular (F1) and the corpus luteum (CL) hemodynamics, ovarian (OvA) and uterine arteries (UtA) blood flow volumes (BFV) and dynamics associated with the circulating estradiol (E2), progesterone (P4), glucose and nitric oxide (NO) in cows treated with the ovsynch protocol. Eight Friesian cows underwent trans-rectal Doppler scanning and blood sampling each other day throughout two successive non-treated (Spontaneous) and two treated successive estrous cycles (ovsynch). The results revealed that the existed dominant follicles (F1) area, antrum area, color area, and the CL area and the color area on the ovaries declined following the first dose of the gonadotropin-releasing hormone (GnRH, Day-11) till Day -5 then another dominant follicle started growth and reached ovulation (Day 0). Ovsynch pre-ovulatory phase (Day-5 to 0) had more (P<0.01) small, medium, and total follicles. The ovsynch F1 (P=0.001) and the CL (P=0.006) had higher areas but lower color areas percent. The ovsynch increased ipsi-lateral OvA pulsatility index (PI) that associated decreased diameter and time average mean velocity (TAMV) and blood flow volume except Day 6 (BFV, P<0.05). The ovsynch improved (P<0.01) the ipsilateral UtA PI but lowered its diameter, peak systolic velocity (PSV), TAMV, and BFV except Day 10. Ovsynch ovulation was characterized by low E2, NO, and high glucose but the late luteal phase had high (P<0.001) P4 and glucose with low E2. In conclusion, the decreased follicle and luteal vascularization with lowered uterine blood flow and estradiol may adversely affect the quality of the oocyte and the decreased progesterone from Day 7 till Day 10 and the ipsilateral uterine artery BFV may not support the implantation and disturb the maintenance of the embryo after timed insemination.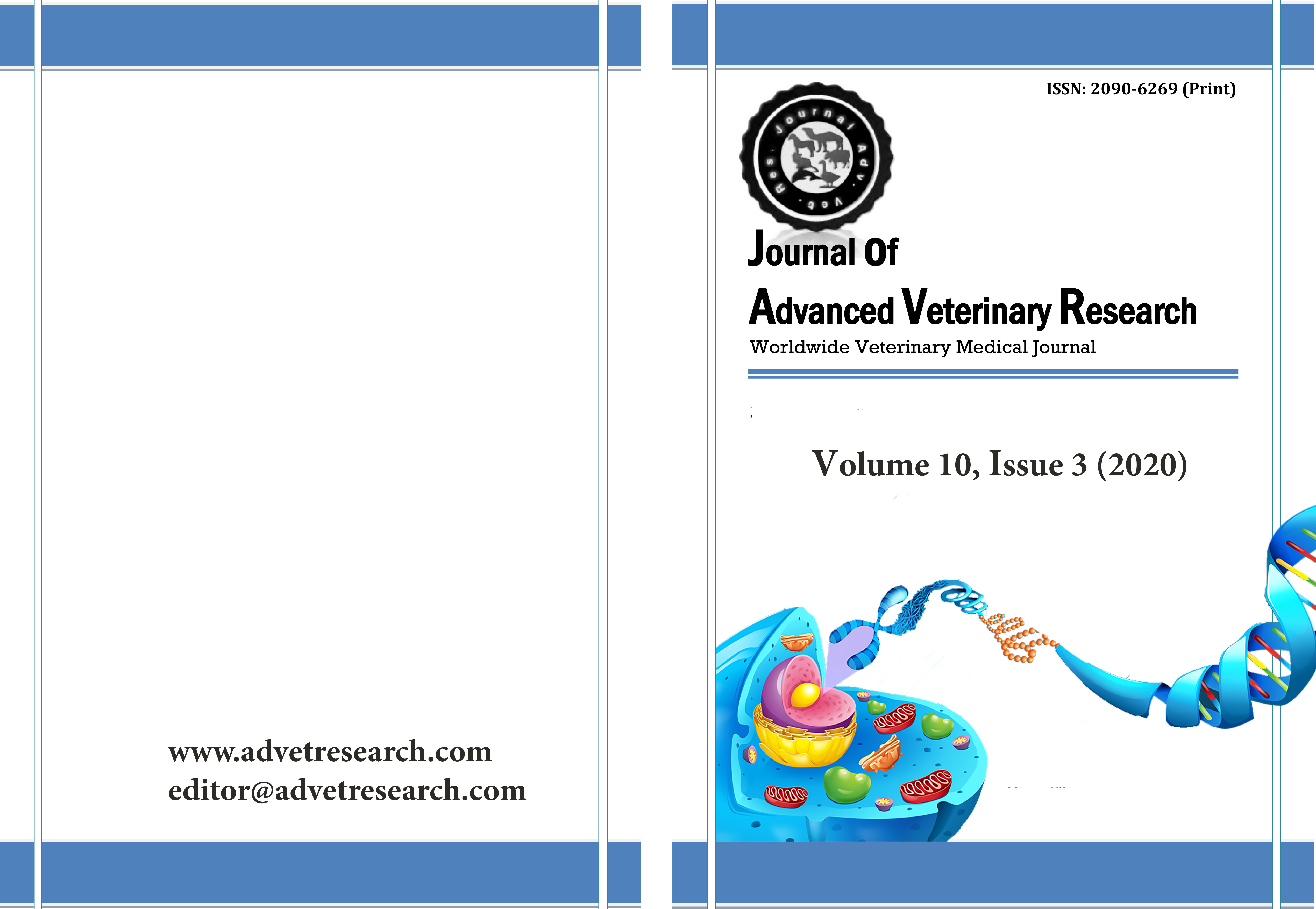 Downloads
How to Cite
Abdelnaby , E. A. ., Abo El-Maaty, A. M., Ragab, . R. ., & Seida, A. (2020). A Ovsynch Produced Larger Follicles and Corpora Lutea of Lower Blood Flow associated Lower Ovarian and Uterine Blood Flows, Estradiol and Nitric Oxide in Cows : Ovsynch ovarian response and blood flow of cows . Journal of Advanced Veterinary Research, 10(3), 165-176. Retrieved from https://www.advetresearch.com/index.php/AVR/article/view/477
Section
Original Research
License
Copyright (c) 2020 Journal of Advanced Veterinary Research
This work is licensed under a Creative Commons Attribution-NonCommercial-NoDerivatives 4.0 International License.
Users have the right to read, download, copy, distribute, print, search, or link to the full texts of articles under the following conditions: Creative Commons Attribution-NonCommercial-NoDerivatives 4.0 International (CC BY-NC-ND 4.0).
For more information: