Therapeutic Management, Clinicopathological, Molecular and Cost Studies on Sarcoptes scabiei Infestation in Rabbit
Abstract
Sarcoptic Mange is a highly contagious parasitic disease that can cause huge economic losses to rabbit producers and has the potential to infect humans. This study aimed to perform molecular characterization and phylogenetic analysis of Sarcoptes scabiei, assess redox and inflammatory state, evaluate the cost and efficacy of a single dose of a commercially available ivermectin with a topical application of sulfur ointment for control of this issue. Skin scraping was collected from infested rabbits in Ismailia governorate, Egypt, and submitted for parasitological examination. The mite specimens were identified based on ITS2 PCR gene. Forty-four adult rabbits naturally infected with mange and 5 free animals were divided into three groups, group 1, 1% ivermectin was injected subcutaneously once, the affected area was soaked with 1% deltamethrin, and sulfur ointment 10% was applied every 2 days. Group 2 received two injections of ivermectin with an interval of 2 weeks while group 3 was non-infested rabbits. Skin scraping and serum samples were taken for parasitological and clinicopathological examination and the cost of each treatment was calculated. A high degree of sequence variation was observed between our sequence sample and some other Sarcoptes scabiei sequences from Egypt and different geographic areas. MDA and IL-6 levels were significantly increased, and TAC was significantly decreased in the infected groups compared with the uninfected group. On the 28th day of treatment, hair growth and complete skin recovery were observed in both treated groups. A single dose of 1% ivermectin with topical treatment is sufficient to eliminate Sarcoptes scabiei but is costly.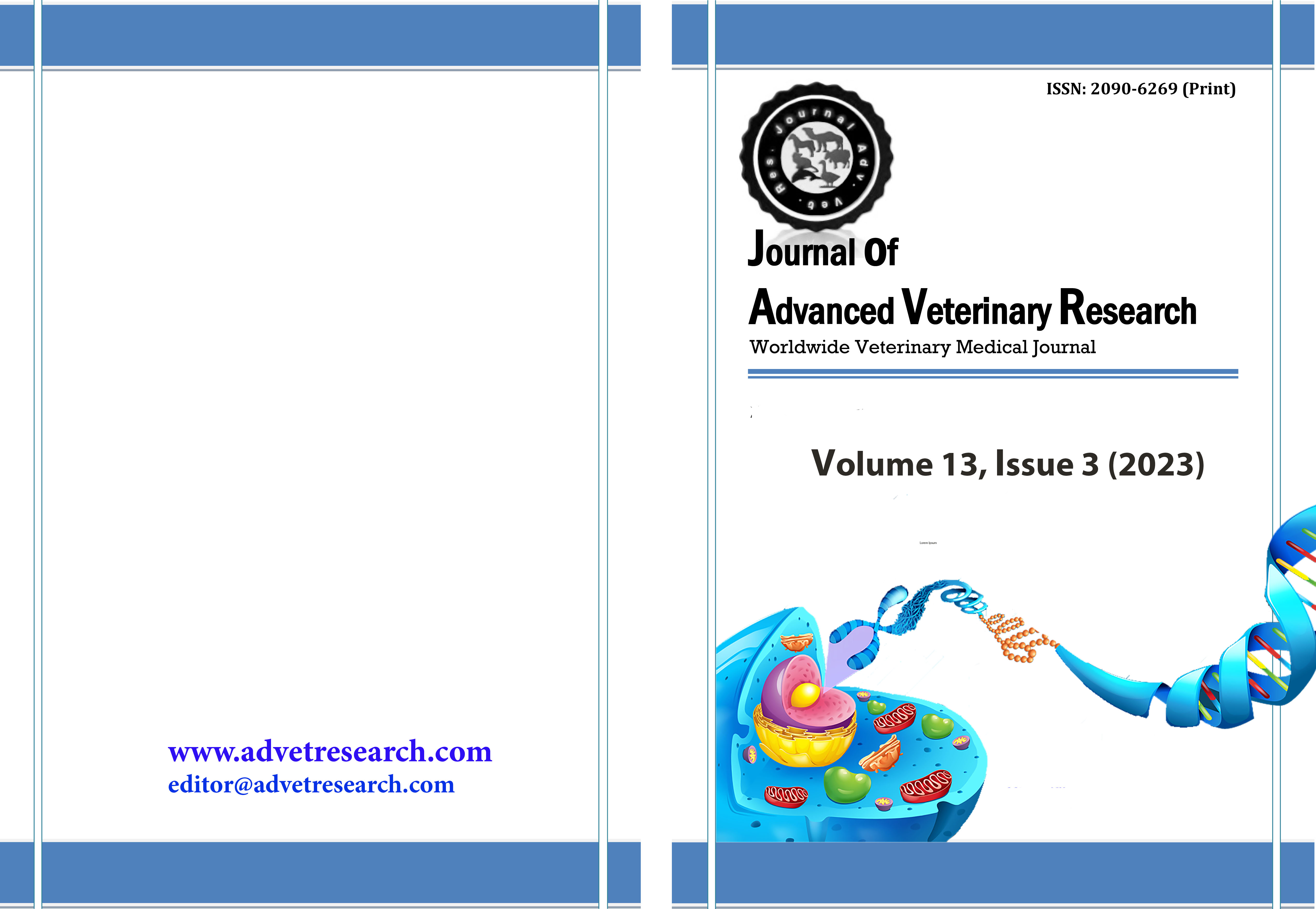 Downloads
How to Cite
Abdallah, M. S. ., Sallam, N. H. ., Abdelnaeim, N. S. ., Mandour, M. A. ., Saad Eldin, W. F., & Abouelhassan, E. M. . (2023). Therapeutic Management, Clinicopathological, Molecular and Cost Studies on Sarcoptes scabiei Infestation in Rabbit . Journal of Advanced Veterinary Research, 13(3), 333-338. Retrieved from https://www.advetresearch.com/index.php/AVR/article/view/1223
License
Copyright (c) 2023 Journal of Advanced Veterinary Research
This work is licensed under a Creative Commons Attribution-NonCommercial-NoDerivatives 4.0 International License.
Users have the right to read, download, copy, distribute, print, search, or link to the full texts of articles under the following conditions: Creative Commons Attribution-NonCommercial-NoDerivatives 4.0 International (CC BY-NC-ND 4.0).
For more information: