Morphological and Molecular Studies of Ecto- and Endoparasites Infested Chicken in Ismailia Province, Egypt
Abstract
The native breed of chicken is one of the most income-producing species in the poultry sector in the Egyptian governorate of Ismailia. Thus, the objective of the current study was to identify the collected parasites using a light microscope and estimate the prevalence and seasonal dynamics of the collected helminths using the newly introduced molecular biology methods. 120 chickens out of 170 recorded (70.59%) prevalence of helminth infestation during the period from September 2021 until the end of August 2022. Four nematodes with a prevalence of 44.12 %, which were Ascaridia galli, Heterakis gallinarum, Subulura brumpti, Trichostrongylus tenuis, and four cestodes with 26.47 %, which were Raillietina tetragona, R. echinobothrida, Hymenolepis carioca, and Choanotaenia infundibulum. Eimeria spp. infestation (11.18%), which were E. tenella, E. maxima, E. mitis, and E. burnetti. Ectoparasites (15.88%) were Echidnophaga gallinacea, Lipeurus caponis, Menopon gallinae, Columbicola columbae, and Dermanyssus gallinae. The identities of the certainly recovered nematode and cestode species were confirmed by the blast test using DNA sequence data. Thus, it is advised to use the molecular approach as the primary methodology for the accurate identification of helminths, particularly in closely related species.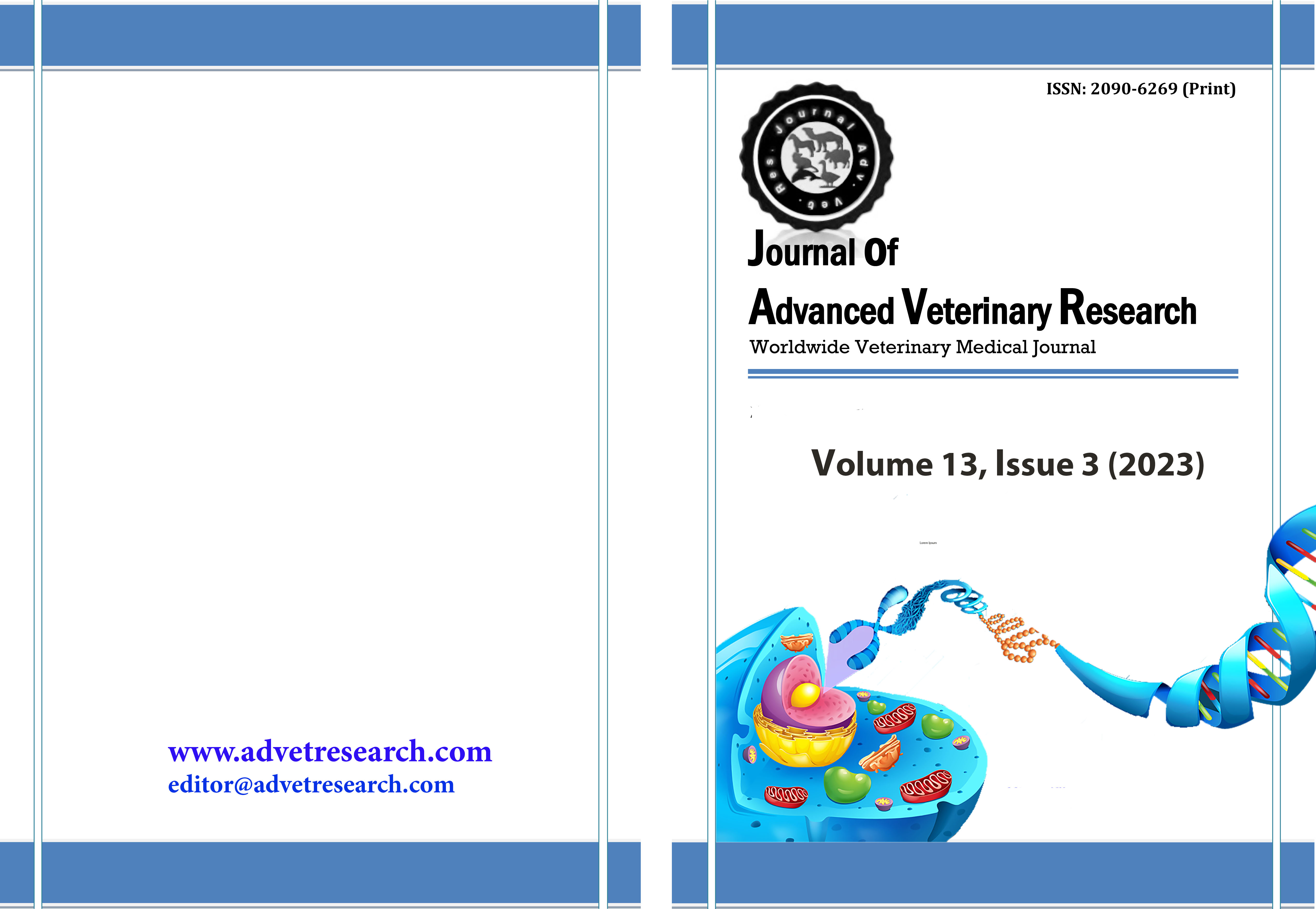 Downloads
How to Cite
Hassan, T. A. ., El-Gawady, H. M. ., El-Gayer, A. K. ., & Sallam, N. H. . (2023). Morphological and Molecular Studies of Ecto- and Endoparasites Infested Chicken in Ismailia Province, Egypt. Journal of Advanced Veterinary Research, 13(3), 352-359. Retrieved from https://www.advetresearch.com/index.php/AVR/article/view/1225
License
Copyright (c) 2023 Journal of Advanced Veterinary Research
This work is licensed under a Creative Commons Attribution-NonCommercial-NoDerivatives 4.0 International License.
Users have the right to read, download, copy, distribute, print, search, or link to the full texts of articles under the following conditions: Creative Commons Attribution-NonCommercial-NoDerivatives 4.0 International (CC BY-NC-ND 4.0).
For more information: